I arrived at the topic of this post in a round about way today. It started with a search for the best refrigerator for our project on the energy star website. While we obviously need an energy star model, the range of energy usage ranges from roughly 400 – 700 kWH / year on the energy star chart of refrigerators that would fit our home. While the range is not earth shattering, a difference of 300 kWH / year could end up being 5-10% of a future PV system installed to convert the home to zero-energy status. I found myself looking at fridges from under $1K up to $3K for some of the sleekest and most energy efficient models.
Spending $3K of a $100K budget on a refrigerator just didn't make sense so I took a step back an tried to look at the home's energy use as a whole. If we are going to evaluate where we can splurge to reduce energy consumption on our small budget, then we must take a look at everything in the house that is using energy.
A quick search on home energy consumption leads one to this chart from the government.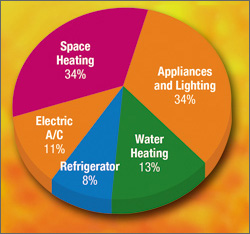 Obviously the percentages will vary depending on the home and the location of the home, but it is easy to see what the priority should be for our budget in terms of energy reduction. I found similar charts in other locations but the big three were alway heating, cooling and water heating. Nothing earth shattering here. Below is the breakdown of energy use in terms of $ spent in the US in 2005:
Space Heating – 35.2%
Water Heating – 13.1%
Space Cooling – 10.8%
Lighting – 9.7%
Refigeration – 6.6%
Electronics – 6.5%
Cooking – 4.5%
Wet Clean (w/d & d/w)- 4.3%
Computers – 1.0%
Other 4.3%
There is also and adjustment of 4.1% to total 100% in here that I will not bore you with an explanation of.
This is relatively basic stuff but every once in a while it helps to review and make sure our budget dollars are not being spent on the wrong items. The goal is to spend a large part of the budget on the fundamental aspects of the home like HVAC and passive solar design rather than bells, whistles and shiny things that do not add to the home's energy efficient performance. Again, finishes can be added and customized by the owner, but the fundamentals are much more costly to modify once the home is built.
Looking at the numbers, we are reminded why we are paying so much attention to the insulation of the envelope and the passive heating and cooling design. Investing in SIPs (or other super insulation), Energy Star windows and an architect that understands the value of passive heating/cooling design are all great investments as they hit two of the top three energy users pretty hard.
By combining our water heating needs with our space heating system, we have automatically added another layer of efficiency. Investing in a consultant to help us design the most efficient water heating system makes sense for this reason also. In fact, this is probably the best place to invest any extra budget monies we are able to extract from other line items. While refrigeration is the largest consumer out of all of the home's appliances, any significant investment in reducing it's energy consumption can not compare to one that will reduce the energy required to heat both the home's air and water.
Next is lighting which will warrant intelligent placement of both lights and windows to keep the artificial lighting demand to a minimum. A possible upgrade will be considering LED light fixtures rather than CFL's in select locations. At $100-$200 premiums per fixture for LED's, this can get pricey pretty fast.
The fridge and all other appliances follow and must be considered. Energy Star appliances as well as using the smallest units possible should be sufficient. I have an 18 cubic foot economy fridge in my loft that probably cost about $700 and uses less than around 450 kWH/year based on some quick research. If it was framed a bit better in my kitchen I probably wouldn't mind it at all.
So the bottom line is that if we are going to splurge somewhere on our design for energy savings, it should obviously be done to improve our heating, cooling and hot water energy demands. Appliances and lighting should be intelligently designed and small upgrades in the amount of a couple hundred dollars may be warranted at a future date.
Right now, the most tempting upgrade to seek is a solar thermal system that has the ability to greatly reduce both our space and water heating demands. This might cost an extra $5K or less if we are a really smart with our internal water heating/storage components. The alternative is to spend this $5K on improving the overall energy consumption in the home and offering the solar thermal system as an upgrade. The benefit to this would be reducing a future PV system cost, but I have a feeling that most people would rather have a solar system as standard equipment, since a PV install is going to be a big decision that will most likely have to be financed in the future when solar incentives return to our area.
http://www1.eere.energy.gov/consumer/tips/home_energy.html
http://www.lyrec.com/Tips/Energy_Use/index.html
http://www.energyright.com/savingenergy/index.htm
If you enjoyed reading this post I can promise you'll love our new writing over at Postgreen Homes. Yeah, we know that's the same thing your favorite band said and their new album is nowhere near as good as their early stuff, but seriously, we are actually still getting better.
There also isn't much conversation to be had here . . . at least not with us. So come on over to the Postgreen Homes Blog and tell us what you think of our new(ish) digs and crazy ideas. We will be sure to tell you what we think of your opinion.