As we are nearing completion of the 100K House, we have started posting a bit on the interior design and furnishing of the home. Since we will be living in the house, we intend to make the house a model show home of sorts to walk prospective buyers through that may be interested in future projects prior to or during their construction.
This post has been a work in progress for a few weeks now, so forgive me if the formatting is not completely consistent. This list is intended to be a sort of wish list of furniture only that we would consider purchasing for the home. It is organized room by room and tries to focus on functionality, modern style and affordability.
We tried to get a few sustainable pieces in there as well, but currently we are a bit disappointed by what's available. There is not a huge selection out there in sustainable furniture and what is available is often very pricey or not very appealing design wise. I could go on, but we'll save that for another post.
Please peruse our list and feel free to offer other suggestions. We are very interested in your feedback on this post as we have already started sourcing some pieces for the home.
Living Room
Couch
Desire: Mid-Century Modern look and feel with legs. Convertible sleeper sofa for guests.
Blu Dot – One Night Stand Sleeper Sofa – $1799
We looked long and hard, and this is the best option to get a comfortable and inviting looking sofa with arms that converts into a bed. Having a sofa bed is important given the fact that we don't have (or need) a guest room.
Coffee Table
Desire: Simple, wooden, clean lines, possible storage for magazines. Thrift store, salvage or craigslist find may be best.
Here is a possibly vintage boomerang coffee table listed online for only $150.
STRIND Coffee Table from IKEA – $139
IKEA has a couple of options including this guy that aren't too bad. We like the idea of something non-square that has room for storage. Finding pieces with extra storage is going to be a common theme in this house.
Chairs
Desire: Compact, comfortable, durable, classic.
OFFI – Perch Lounge $499
The wife and I are in love with this chair. It's not at all cheap, but we just keep coming back to it. Between the molded plywood with a comfortable, yet simple covering to the beautifully integrated storage underneath – it seems to have everything we are both looking for in the perfect living room chair.
IKEA – Tobias Chair $99
This thing comes in clear also which could be cool. This is more of a dining room chair, but I really like the design. It passed the comfort test and there are a few more chairs in this price range we like from IKEA we'll consider as well. A thrift store find could also take the place to add a bit more character into the room also.
IKEA Jakob Swivel Chair ($139) and Bernhard Chair ($119) could also work

pause stool from CB2 – $14.95
This is fun option for additional seating when one or two extra friends are around than seats. Folds up flat for easy storage in a closet when not in use. Recycled cardboard.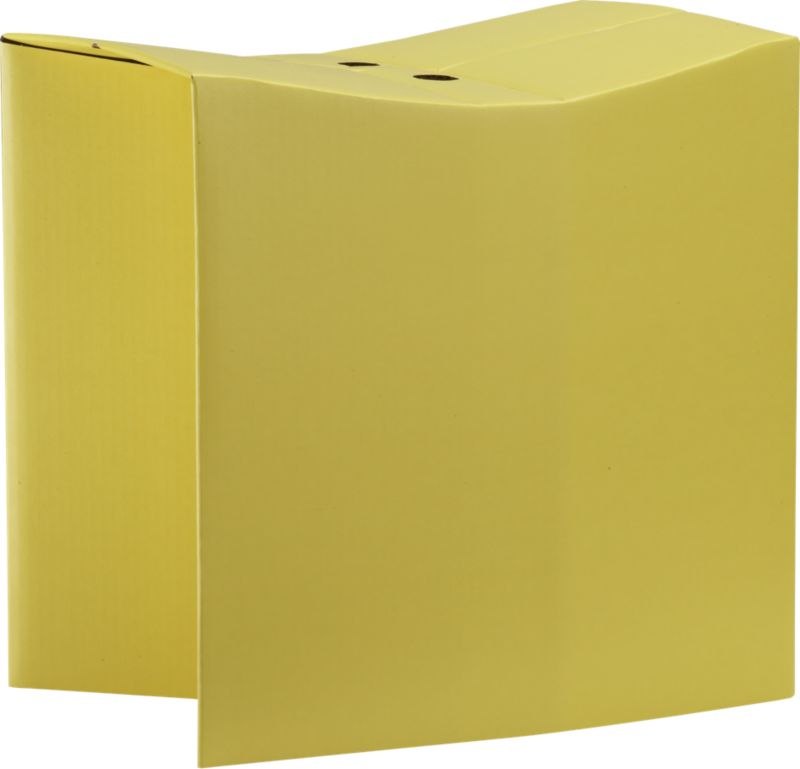 Credenza
Desire: Mid-century or industrial style, legs, new or vintage, capable of holding A/V equipment
IANNONE – Signature 2.0 Dandelion Graphic Console $2,775
I absolutely love IANNONE Designs as they are local, modern and environmentally conscious. Unfortunately, we will most likely not be able to afford one of their pieces for some time. They ain't cheap.
IKEA – PS Cabinet $99
I've always liked this basic high-school locker inspired cabinet from IKEA. It's uber cheap too.
In case we want to match our dining room table and the white cabinets in the kitchen there's always this option.

Another option is this Open Source Storage unit that can be made with only $200 in materials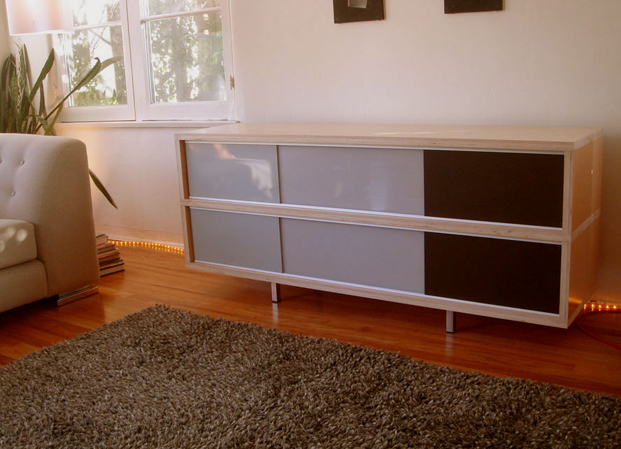 Side Table
Desired: Compact with storage, preferably wooden.
OFFI – Mag Table $169
Back to OFFI again. Not cheap, but beautiful, timeless and functional.
Lamp
Desire: Capable of lighting most of the living room area without using overhead lighting. Appropriate scale for a compact living room area in an open floorplan.
Pablo – Umbrella Light $220
This baby reminds me of the Fortuny Lamp that retails for a cool $5K.
Simple and fitting with what seems to be a black and white scheme developing in the downstairs. If the shade was oversized a bit more, I think I'd like it even more.
Bauhaus arc floor lamp from CB2 – $199
CB2 has a couple of floor lamps that we really like for $200. This arc lamp reminds us of the classic Arco lamp without the painful price tag. It comes in white as well.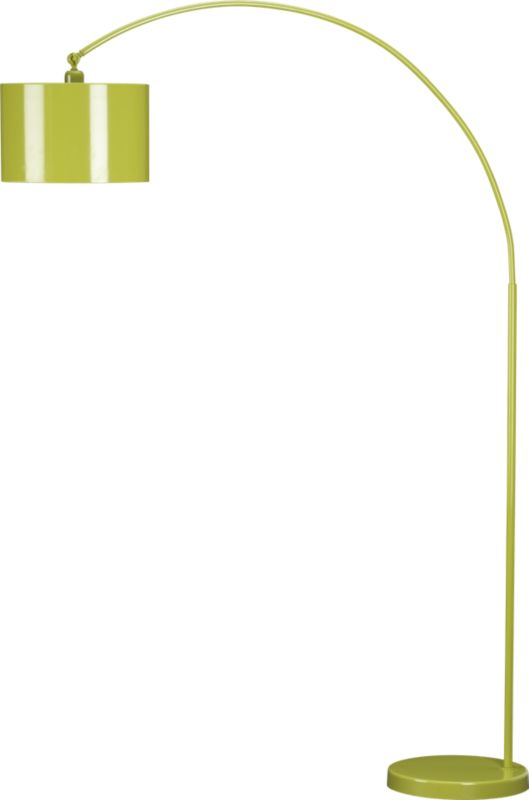 Dining Room
Stools
Desire: Makes a statement without breaking the bank. Comfortable for guests, but not too comfortable.
Blu Dot – REAL GOOD Counter Stool $199
I liked the REAL GOOD chair from the day it came out. I have a soft spot for flat-packed furniture that reduces the impact of shipping. This one out of metal takes the idea to another level over most wooden flat-packed furniture. Coming from Blu Dot, you can't beat the price and they offer a counter height model that we will need.
Dining Table
Desire: Sleek (metal/glass) or warm (reclaimed wood), one piece, rectangular or oval, seats 6.
I really like the matte black glass and steel table below from BoConcept. The only problem is the price for a seemingly simple table. We turned to IKEA to see if they had something similar and, lucky for us, they did. The table is very similar with the exception that the glass is frosted and not black. A carefully applied can of spray paint on the under side of the glass should do the trick and we'll still have saved about $1,130.
BoConcept – Dining Table $1,339
IKEA – Torsby Dining Table $199
darjeeling dinging table from CB2 – $899
This option made from reclaimed railroad ties could add a bit of warmth to the back half of the ground floor. It's not too cheap, but I really like it. CB2 had a few other 6-seaters that we like at more reasonable prices also.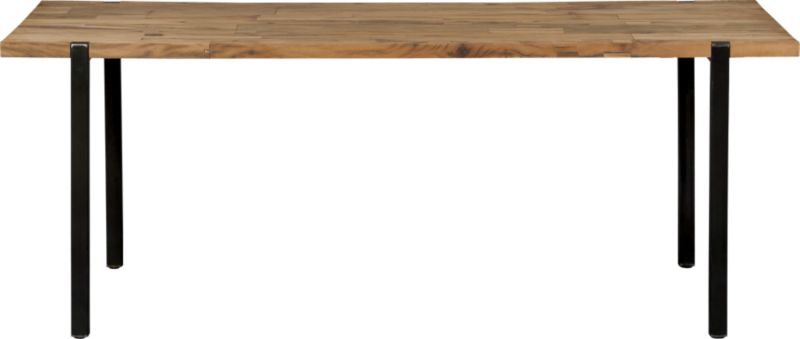 Custom Scrap 2×4 dining table? – Mr. Darling $0
Another idea we are considering is having our master carpenter, Nic's Dad, design and build us a unique dining room table out of scrap 2×4′s left over on the construction site. The end result could be poly'ed or painted with a high glass paint. We'll have to see how Mr. Darling feels about this idea when he arrives next week…
Dining Chairs
Existing IKEA black rubber and steel tube chairs. Our current dining room chairs will have to do for now. They seem to be discontinued, so I'm having a hard time finding a good stock image. They are comfortable, stackable and will work nicely with the dining table chosen above. If we replace them in the future they could also work in the back yard or as guest chairs in the office.
We are also scouring craigslist for viable options to replace the current chairs. It really depends on the type of dining table we end up going with. I don't mind mixing and matching used chairs for a dining table but the wife does not always agree. We'll see how it plays out.
Bedroom
Bed
Desire: Minimal platform bed with integrated storage in the base.
MANDAL bed from IKEA – $349
This bed is the most economical option and with some paint over the cheap wood, it could look pretty sharp.
harmonica bed from CB2 – $799
A slightly classier version of the platform bed with storage is available at CB2 for just over double the IKEA model. No painting required though.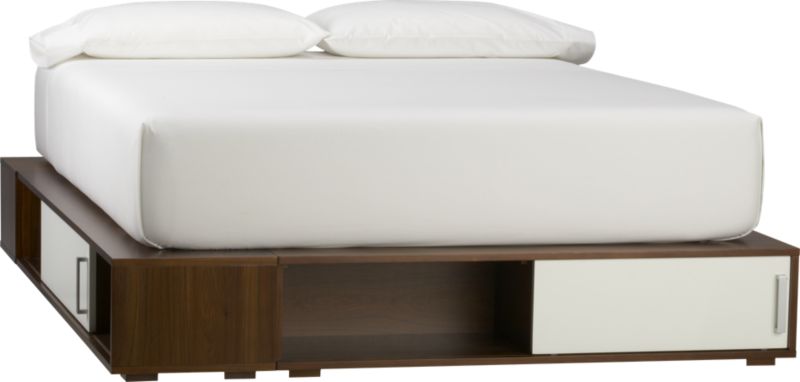 Dresser
Desire: Low and wide, 6 or more drawers, simple aesthetic.
IANNONE – Green Mod: Wood Stripe Tall Dresser $3,995
Again, not cheap but beautiful. Check out his site for more furniture. I guarantee you will love it.
IKEA – Mandal 6-drawer chest $249
Guess which one we'll be able to afford? The Mandal from IKEA gives us the 6 drawers that we need with some flair to the drawer fronts. I'm not crazy about the type of wood used on this model, but that could always be stained or painted to give it a different look.
Closet
This is a custom clothes storage option seen in a vintage clothing store in Old City. If we can clean up our closet enough, I'd like to recreate something similar with plumbing pipe and plywood.
Rocking Chair
Desire: Eames Molded Plastic Rocker. Period.
Eames Molded Plastic Rocker $449
Office
Desire: Something that looks nice and keeps Nic and Chad's blood from pooling in their limbs or requiring weekly full body massages to live. Our current IKEA chairs just aren't cutting it…
Office Chairs
Herman Miller – Celle Chair $450
Wall Shelf
Desire: Maximum storage with minimal impact on the small office it will occupy.
Italic Shelf – Kadushin Open Design
This design of this shelf is available for free via a Creative Commons License. We could use the same plywood that will be used upstairs and send the files to our local CNC shop for fabrication. I think it would make an interesting piece in our office to store books, files and office supplies. We may even try to incorporate a dart board into one of the shelves openings if possible.
Whiteboard
DIY Glass Whiteboard – $??
Here at Postgreen, we tend to use our tiny 2′ x 3′ whiteboard quite a bit. It's normally in a completely full state that often hinders us from brainstorming more lousy to semi-brilliant ideas that may or may not ever go anywhere. We have been discussing the possibility of making our own huge glass whiteboard and are determined to make this happen when we move. We have a local glass shop that should be able to help us out or there is always the possibility of using a glass table top from IKEA. Either way, it should be considerably cheaping than buying one online.
Guest Chair(s)
We currently have eight of the dining chairs we will be holding onto, so that leaves two extra for the office and back yard to fight over. Also, my IKEA Jules molded plywood chair that is currently destroying my back on a daily basis will probably stay around for those guest that like added mobility in their seating.
IKEA Jules Swivel Chair FREE ($39)
If you enjoyed reading this post I can promise you'll love our new writing over at Postgreen Homes. Yeah, we know that's the same thing your favorite band said and their new album is nowhere near as good as their early stuff, but seriously, we are actually still getting better.
There also isn't much conversation to be had here . . . at least not with us. So come on over to the Postgreen Homes Blog and tell us what you think of our new(ish) digs and crazy ideas. We will be sure to tell you what we think of your opinion.