Yesterday we looked at some lessons learned from our aggressive air sealing goals on the Passive Project. In doing so we mentioned that we will be utilizing building gaskets and air sealing tape to help obtain the very difficult building air tightness goal of 0.6 ACH @ 50Pa that is required by the Passive House standard. Let's take a more detailed look at the technology and economics of these two construction materials that are less than standard in the average US home.
Building Gaskets vs. Construction Adhesive
Over in Germany where the Passive House standard originated, they have been using rubber building gaskets for over a decade rather than typical construction adhesive that is used in the US building industry. These gaskets are usually made of EPDM and are similar to the ones used in automotive applications. These gaskets offer a far superior seal for water and air infiltration in difficult and uneven joints like wood to concrete and even wood to wood connections.
I just stumbled on a company in Baltimore, MD – Conservation Technologies – that carries a whole host of these German inspired building gaskets, along with a whole bunch of other cool building products for earth loving projects. They have a whole list of reasons why their gaskets are better than caulk or foam that is typically used in the US. Below are the Pros and Cons that we see:
Pros of Building Gaskets
Superior seal to caulk and foam gaskets or adhesives for both water and air infiltration, especially on uneven surfaces.
Gaskets will last forever with no deterioration.
The installation is easy to perform and easy to verify whereas caulk or smaller foam gaskets are very difficult to verify proper application once the walls are secured in place.
Cons of Building Gaskets
Cost premium (see below for analysis)
Limited availability
Construction crew resistance to new technology that is clearly awesome and being used in the rest of the enlightened world for the past 10+ years.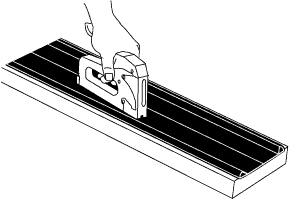 Cost Analysis of Building Gaskets vs. Construction Adhesive
I've compared the raw material cost only of two applications of the gaskets. The first is a gasket that would go on a 2×4 to be used at a sill plate location or between the first and second floor of a house. The other is an interior application at the drywall to wood connections. It's clear that the cost is 2-3 times that of conventional construction adhesive. Some may claim this is expensive, but I was happy to see that the cost difference was not much higher.
2×4 Building Gasket = $0.44 per linear foot
Double Construction Adhesive = $0.15 for two lines per linear foot (1/4″ beads with 10% waste per tube)
Drywall Building Gasket = $0.16 per linear foot
Single Construction Adhesive = $0.075 per linear foot (1/4″ bead with 10% waste)
If we were to take one of our standard building footprints of roughly 18′x40′ that would mean our perimeter is 116′. We would use at least three instances of the 2×4 gasket at the sill plate, second floor and roof details for a total of 348′. Using gaskets rather than a double bead of construction adhesive would add roughly $100 to our material costs. Not bad at all for extreme confidence in a good number of our critical air sealing junctions. Not bad at all.
Air Sealing Tape Analysis
OK, we've looked at gaskets, now lets look at using a whole bunch of tape to seal the seams in our sheathing prior to installing our WRB. This seems extreme to most, and maybe it is, but man does it look good. It also seals a building up really nicely for very little additional non-skilled labor. I mean, we can all handle a roll of tape.
Passive House people love this Grace Vycor Tape for their OSB air sealing. I'm sure there are many other butyl based tapes out there that are similar and just as effective, but we will use Grace Vycor for our example. It can be found online in 6″x75′ rolls for about $24 which is not cheap, but certainly is not a bad deal for such a lovely product.
Our homes are small and infill, so we have two facades that are roughly 18′x25′ to be taped. This equates to 900 square feet with roughly 12′ of tape needed for each 32 square foot sheet or sheating (only two sides need tape as the others will overlap other sheats). This gives us $337 of tape needed. Let's go ahead and round that up to $500 for extra tape needed on corners, windows and door openings if we are so inclined. While this is more expensive than the gaskets, it's still manageable and should go a very long way to reducing air infiltration in our homes.
So there you have it. For less than an extra $600 in material costs and negligible labor additions, we have created a very air tight envelope that is easy to inspect and verify. Your costs in detached homes will obviously be larger, but they should still be in line percentage wise with your build costs as you are already used to buying more sheathing, cladding and the like. Offer your thoughts on these material additions to traditional builds in the comments and thanks for reading.
If you enjoyed reading this post I can promise you'll love our new writing over at Postgreen Homes. Yeah, we know that's the same thing your favorite band said and their new album is nowhere near as good as their early stuff, but seriously, we are actually still getting better.
There also isn't much conversation to be had here . . . at least not with us. So come on over to the Postgreen Homes Blog and tell us what you think of our new(ish) digs and crazy ideas. We will be sure to tell you what we think of your opinion.